Perforated Checkered Diamond Plates are Mainly Used as Stair Tread Flooring and Architectural Decoration Wall Panels and Ceilings. Made of Aluminum or Mild Steel Metal Materials. Designs, Varieties and Uses Details.
Diamond plate is a kind of textured chequered metal plate sheet for tread flooring uses. It is a light metal shank with a design of textured diamonds, raised upon the surface, suitable for tread plates and industrial flooring. It usually consists of a blend of steel or aluminum. In recently years, Karola diamond plates are also used in buildings as architectural metal materials, for facade decoration, wall panels and ceilings decoration.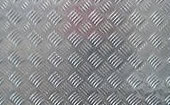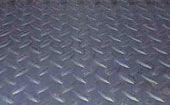 Diamond Plate Flooring Varieties:
Galvanized steel plate
Hot Dipped Diamond Plate
Decorative Diamond Plate Wall Panels
Checker Plate Grid Panels Walls
Checker Plate Composite Gratings
Raised Grid Diamond Plate
Designs: Diamond plate is also known as checkered plate, tread plate or Durbar floor plate. It is a type of lightweight metal perforated with a regular pattern of raised diamonds or lines on one side, with the reverse side being featureless. Diamond plate is usually steel, stainless steel or aluminum. Steel types are normally made by hot rolling, although modern manufacturers also make a raised and pressed diamond design.
Uses: It is used on stairs and catwalks in industrial settings, the added texture reduces the risk of slipping. For this reason diamond plate is frequently used on the interior of ambulances and on the footplates of firetrucks. Diamond plate can also be used decoratively, particularly highly polished aluminum variants.