Galvanized Chequer Plate
Karola supplies chequer plate popularly in galvanized mild steel and aluminum materials. Aluminum chequered plate is more expensive and mainly used for interior and outer building decoration, ceiling panels, etc. Galvanized steel chequered plate is less expansive and mainly used for various industrial uses.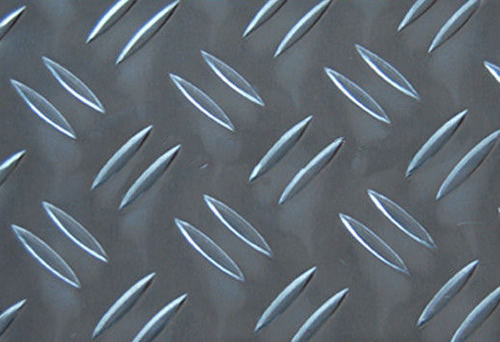 In this page, we mainly introduce chequered plate made of mild steel: its specifications, standard, weight, etc.
Standard: ASTM,GB,JIS,ASTM,GB
Grade: SS400 A36 Q235 Q345
Techinique: Hot Rolled
Surface Treatment: Galvanized
Thickness 2.0-8mm;
Width 1000-2000mm;
Length 2000-12000mm
Pattern: Tear Drop, diamond Two bars, five bars
Application: Floor construction etc.
MOQ: 10MT
Sprecial Use: Wear Resisitant Steel
Packing: Standard seaworthy export pacage
Delivery Time: 10-15days after receiving deposit
Reference Weight of Mild Steel Chequered Plate :
| | | |
| --- | --- | --- |
| Thickness(mm) | Weight(Rhombus) KGS/Mtr | Weight(Lentil Shape ) KGS/Mtr |
| 2.5 | 27.00 | 26.63 |
| 3.0 | 32.00 | 30.50 |
| 3.5 | 36.88 | 35.50 |
| 4.0 | 41.75 | 40.50 |
| 4.5 | 46.63 | 45.50 |
| 5.0 | 52.88 | 50.63 |
| 5.5 | 57.75 | 55.38 |
| 6.0 | 62.63 | 60.50 |
| 7.0 | 73.75 | 65.75 |
| 8.0 | 83.50 | 70.50 |